CASCaM Instituted at UNT [ Official UNT News Story ]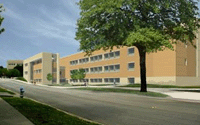 The University of North Texas is the home of the Center for Advanced Scientific Computing and Modeling (CASCaM), whose central mission involves research, education, training and outreach in all facets of advanced scientific computing and modeling. The CASCaM facility, supported by the United States Department of Education, the United States Department of Energy, and the United States Air Force Research Laboratory, affords excellent opportunities for collaboration with UNT computational chemists for students and faculty mentors in Texas and the surrounding states. You can download the official brochure here (PDF format).
Chemistry Professor Emeritus to present invited lectures in April & May 2019
Dr. Wes Borden, Chemistry Professor Emeritus, will be speaking at a Symposium at Ohio State University in April 2019, honoring his friend and collaborator, Professor Matthew Platz. Professor Platz was not only Chair of Chemistry at Ohio State University, but, subsequently, he became Dean of the Faculty of Arts and Sciences. Professor Platz also served as the Director of the Chemistry Division of NSF. In May, Dr. Borden will be giving two lectures at the University of Zurich in Switzerland.
Recent CASCaM graduate joins Michigan State University
Quan Jiang, a Fall 2018 Chemistry graduate that worked with Dr. Cundari, has joined the research group of Dr. Kenneth Merz at Michigan State University as Research Associate/Post-Doctoral Fellow.
New Version of QM/MM Code Published
Dr. Andrés Cisneros (Chemistry)and his research group have published a new version of their QM/MM code LICHEM on github: https://github.com/CisnerosResearch/LICHEM. This new version of LICHEM comprises several new capabilities including a hybrid--parallel implementation of the quadratic string method coupled with restrained MM environment optimization, point-charge and multipolar long--range electrostatic corrections via QM/MM--LREC, a new implementation of QM/GEM and several minor improvements
For a full description of the new capabilities, please see the article currently posted on ChemRxiV.
New Publications: Three Publications by CASCaM Professor
Dr. Andrés Cisneros (Chemistry), and others, recently published three papers:
Selectivity and Promiscuity in TET-Mediated Oxidation of 5-Methylcytosine in DNA and RNA, Biochemistry. The article can be found here.

Abstract: Enzymes of the ten-eleven translocation (TET) family add diversity to the repertoire of nucleobase modifications by catalyzing the oxidation of 5-methylcytosine (5mC). TET enzymes were initially found to oxidize 5-methyl-2'-deoxycytidine in genomic DNA, yielding products that contribute to epigenetic regulation in mammalian cells, but have since been found to also oxidize 5-methylcytidine in RNA. Considering the different configurations of single-stranded (ss) and double-stranded (ds) DNA and RNA that coexist in a cell, defining the scope of TET's preferred activity and the mechanisms of substrate selectivity is critical to better understand the enzymes' biological functions. To this end, we have systematically examined the activity of human TET2 on DNA, RNA, and hybrid substrates in vitro. We found that, while ssDNA and ssRNA are well tolerated, TET2 is most proficient at dsDNA oxidation and discriminates strongly against dsRNA. Chimeric and hybrid substrates containing mixed DNA and RNA character helped reveal two main features by which the enzyme discriminates between substrates. First, the identity of the target nucleotide alone is the strongest reactivity determinant, with a preference for 5-methyldeoxycytidine, while both DNA or RNA are relatively tolerated on the rest of the target strand. Second, while a complementary strand is not required for activity, DNA is the preferred partner, and complementary RNA diminishes reactivity. Our biochemical analysis, complemented by molecular dynamics simulations, provides support for an active site optimally configured for dsDNA reactivity but permissive for various nucleic acid configurations, suggesting a broad range of plausible roles for TET-mediated 5mC oxidation in cells.

Insight into wild-type and T1372E TET2-mediated 5hmC oxidation using ab initio QM/MM calculations, Chemical Science. The article can be found here.

Abstract: Ten-eleven translocation 2 (TET2) is an Fe/α-ketoglutarate (α-KG) dependent enzyme that dealkylates 5-methylcytosine (5mC). The reaction mechanism involves a series of three sequential oxidations that convert 5mC to 5-hydroxy-methylcytosine (5hmC), 5-formylcytosine (5fC) and 5-carboxylcytosine (5caC). Our previous biochemical and computational studies uncovered an active site scaffold that is required for wild-type (WT) stepwise oxidation (Nat. Chem. Bio., 13, 181). We showed that the mutation of a single residue, T1372 to some amino acids, such as Glu, can impact the iterative oxidation steps and stop the oxidation of 5hmC to 5fC/caC. However, the source of the stalling at the first oxidation step by some mutant TET proteins still remains unclear. Here, we studied the catalytic mechanism of oxidation of 5hmC to 5fC by WT and T1372E TET2 using an ab initio quantum mechanical/molecular mechanical (QM/MM) approach. Our results suggest that the rate limiting step for WT TET2 involves a hydrogen atom abstraction from the hydroxyl group of 5hmC by the ferryl moiety in the WT. By contrast, our calculations for the T1372E mutant indicate that the rate limiting step for this variant corresponds to a second proton abstraction and the calculated barrier is almost twice as large as for WT TET2. Our results suggest that the large barrier for the 5hmC to 5fC oxidation in this mutant is due (at least in part) to the unfavorable orientation of the substrate in the active site. Combined electron localization function (ELF) and non-covalent interaction (NCI) analyses provide a qualitative description of the evolution of the electronic structure of the active site along the reaction path. Energy decomposition analysis (EDA) has been performed on the WT to investigate the impact of each MM residue on catalytic activity.

Reduced structural flexibility for an exonuclease deficient DNA polymerase III mutant, Physical Chemistry Chemical Physics. The journal can be found here.

Abstract: DNA synthesis, carried out by DNA polymerases, requires balancing speed and accuracy for faithful replication of the genome. High fidelity DNA polymerases contain a 3'-5' exonuclease domain that can remove misincorporated nucleotides on the 3' end of the primer strand, a process called proofreading. The E. coli replicative polymerase, DNA polymerase III, has spatially separated (~55 Å apart) polymerase and exonuclease subunits. Here, we report on the dynamics of E. coli DNA polymerase III proofreading in the presence of its processivity factor, the β2-sliding clamp, at varying base pair termini using single-molecule FRET. We find that the binding kinetics do not depend on the base identity at the termini, indicating a tolerance for DNA mismatches. Further, our single-molecule data and MD simulations show two previously unobserved features: (1) DNA Polymerase III is a highly dynamic protein that adopts multiple conformational states while bound to DNA with matched or mismatched ends, and (2) an exonuclease-deficient DNA polymerase III has reduced conformational flexibility. Overall, our single-molecule experiments provide high time-resolution insight into a mechanism that ensures high fidelity DNA replication to maintain genome integrity.
New Publication: Polarizable ab initio QM/MM Study of the Reaction Mechanism of N-tert-Butyloxycarbonylation of Aniline in [EMIm][BF4]
Dr. Andrés Cisneros (Chemistry), and others, recently published "Polarizable ab initio QM/MM Study of the Reaction Mechanism of N-tert-Butyloxycarbonylation of Aniline in [EMIm][BF4]" in the journal Molecules.
Abstract: N-tert-butoxycarbonylation of amines in solution (water, organic solvents, or ionic liquids) is a common reaction for the preparation of drug molecules. To understand the reaction mechanism and the role of the solvent, quantum mechanical/molecular mechanical simulations using a polarizable multipolar force field with long–range electrostatic corrections were used to optimize the minimum energy paths (MEPs) associated with various possible reaction mechanisms employing the nudged elastic band (NEB) and the quadratic string method (QSM). The calculated reaction energies and energy barriers were compared with the corresponding gas-phase and dichloromethane results. Complementary Electron Localization Function (ELF)/NCI analyses provide insights on the critical structures along the MEP. The calculated results suggest the most likely path involves a sequential mechanism with the rate–limiting step corresponding to the nucleophilic attack of the aniline, followed by proton transfer and the release of CO2 without the direct involvement of imidazolium cations as catalysts.
You can view the article here.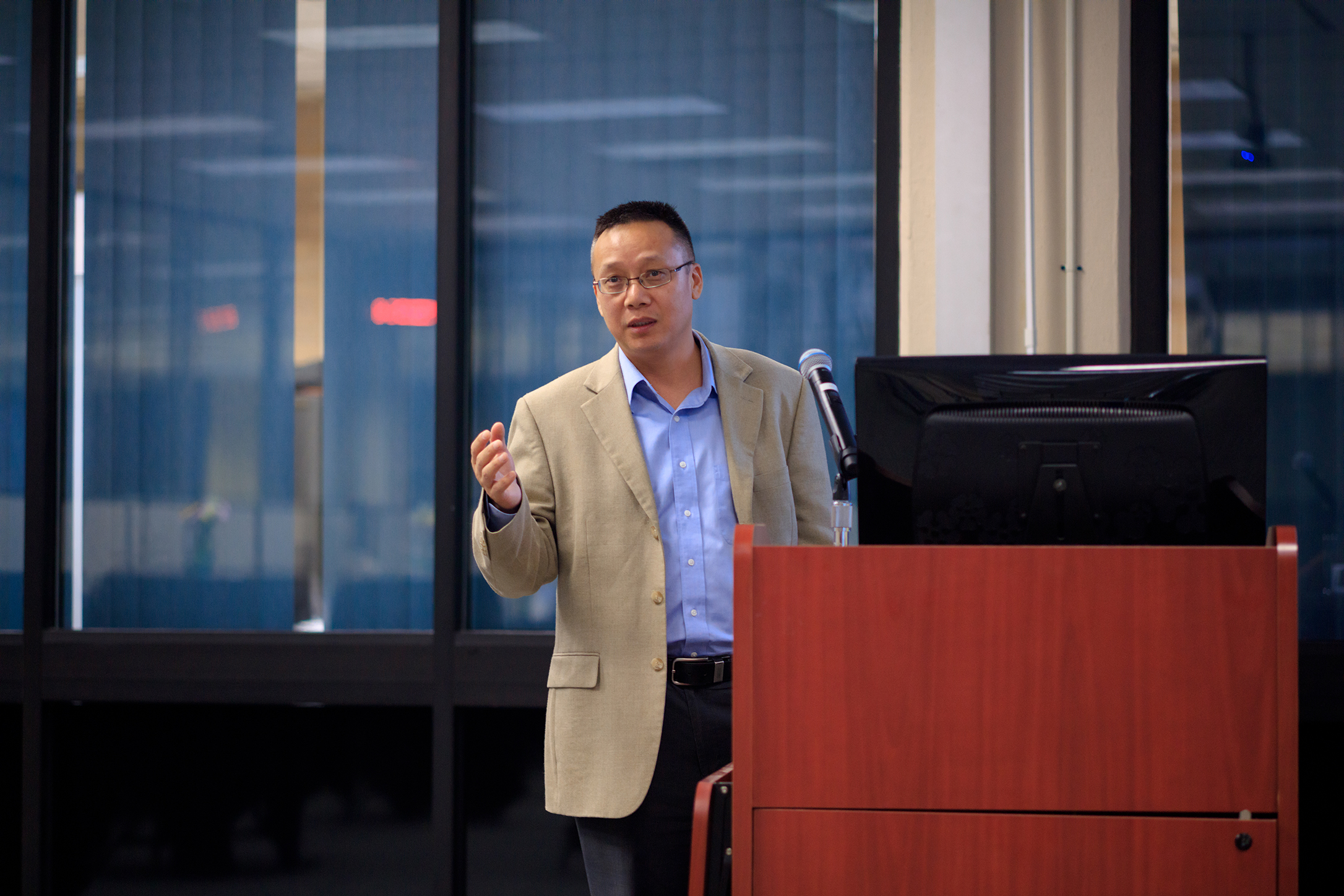 CASCaM professor receives UNT Research Leadership Award
Dr. Jincheng Du, Materials Science & Engineering, has received the UNT Research Leadership Award. According to the UNT Faculty Success website, the award "is given to a full-time University faculty member whose research excellence and leadership at UNT has made substantial contribution to their respective discipline and achieved national and/or international recognition." He will be presented with the award at the UNT Salute to Faculty Excellence Awards Dinner & Ceremony in the Emerald Ballroom (University Union) on Friday, October 5, 2018. (Click on the picture to see a larger version, courtesy of UNT Libraries)
More information about the award can be found here.
A list of the other UNT Faculty Excellence award winners can be found here.
Chemistry student presented during the Fall 2018 ACS National Meeting
Azadeh Nazemi, graduate student working with Dr. Thomas Cundari, presented a talk titled "DFT Study of Hydroaminoalkylation of Alkenes with Amidate Tantalum Complexes" at the Fall 2018 ACS National Meeting & Expo in Boston, MA, August 2018. The focus of the talk was about studying the nature of hydrogen, proton or hydrogen radical, during hydrogen transfer in the rate determining step and see how pKa is important in the reaction mechanism of hydroaminoalkylation.
CORRECTIONS: New Publications: Three Publications by CASCaM Professor
Dr. Andrés Cisneros (Chemistry), and others, recently published three papers:
DNArCdb: A Database of Cancer Biomarkers in DNA Repair Genes that Includes Variants Related to Multiple Cancer Phenotypes, DNA Repair. The article can be found here.

Abstract: Functioning DNA repair capabilities are vital for organisms to ensure that the biological information is preserved and correctly propagated. Disruptions in DNA repair pathways can result in the accumulation of DNA mutations, which may lead to onset of complex disease such as cancer. The discovery and characterization of cancer-related biomarkers may allow early diagnosis and targeted treatment, which could significantly contribute to the survival rates of cancer patients. To this end, we have applied a hypothesis driven bioinformatics approach to identify biomarkers related to 25 different DNA repair enzymes, in combination with structural analysis of six selected missense mutations of newly discovered SNPs that are associated with cancer phenotypes. Our search on 8 distinct cancer databases uncovered 43 missense SNPs that statistically significantly associated at least one phenotype. Moreover, nine of these missense SNPs are statistically significantly associated with two or more cancers. In addition, we have performed classical molecular dynamics to characterize the impact of rs10018786 on POLN, which results in the M310 L Pol ν variant, and rs3218784 on POLI, which results in the I236 M Pol ι. Our results suggest that both of these cancer-associated variants result in noticeable structural and dynamical changes compared with their respective wild-type proteins.

Corrected Article Link: Characterization of Nine Cancer-Associated Variants in Human DNA Polymerase κ, Chemical Research in Toxicology. The article can be found here.

Abstract: Specialized DNA damage-bypass Y-family DNA polymerases contribute to cancer prevention by providing cellular tolerance to DNA damage that can lead to mutations and contribute to cancer progression by increasing genomic instability. Y-family polymerases can also bypass DNA adducts caused by chemotherapy agents. One of the four human Y-family DNA polymerases, DNA polymerase (pol) κ, has been shown to be specific for bypass of minor groove adducts and inhibited by major groove adducts. In addition, mutations in the gene encoding pol κ are associated with different types of cancers as well as with chemotherapy responses. We characterized nine variants of pol κ whose identity was inferred from cancer-associated single nucleotide polymorphisms for polymerization activity on undamaged and damaged DNA, their abilities to extend from mismatched or damaged base pairs at primer termini, and overall stability and dynamics. We find that these pol κ variants generally fall into three categories: similar activity to wild-type (WT) pol κ (L21F, I39T, P169T, F192C, and E292K), more active than WT pol κ (S423R), and less active than pol κ (R219I, R298H, and Y432S). Of these, only pol κ variants R298H and Y432S had markedly reduced thermal stability. Molecular dynamics (MD) simulations with undamaged DNA revealed that the active variant F192C and more active variant S423R with either correct or incorrect incoming nucleotide mimic WT pol κ with the correct incoming nucleotide, whereas the less active variants R219I, R298H, and Y432S with the correct incoming nucleotide mimic WT pol κ with the incorrect incoming nucleotide. Thus, the observations from MD simulations suggest a possible explanation for the observed experimental results that pol κ adopts specific active and inactive conformations that depend on both the protein variant and the identity of the DNA adduct.

Corrected Article Title, Journal and Link: Characterizing Hydrogen-Bond Interactions in Pyrazinetetracarboxamide Complexes: Insights from Experimental and Quantum Topological Analyses, Inorganic Chemistry. The journal can be found here.

Abstract: Experimental and topological analyses of dipalladium(II) complexes with pyrazinetetracarboxamide ligands containing tetraethyl (1), tetrahexyl (2), and tetrakis(2-hydroxyethyl) ethyl ether (3) are described. The presence of two very short O---O distances between adjacent amide carbonyl groups in the pincer complexes revealed two protons, which necessitated two additional anions to satisfy charge requirements. The results of the crystal structures indicate carbonyl O---O separations approaching that of low barrier hydrogen bonds, ranging from 2.413(5) to 2.430(3) Å. Solution studies and quantum topological analyses, the latter including electron localization function, noncovalent interaction, and Bader's quantum theory of atoms in molecules, were carried out to probe the nature of the short hydrogen bonds and the influence of the ligand environment on their strength. Findings indicated that the ligand field, and, in particular, the counterion at the fourth coordination site, may play a subtle role in determining the degree of covalent association of the bridging protons with one or the other carbonyl groups.
New Publication: Cooperative bi-exponential decay of dye emission coupled via plasmons
Dr. Yuri Rostovtsev (Physics), and others, recently published "Cooperative bi-exponential decay of dye emission coupled via plasmons" in the journal Scientific Reports.
Abstract: Bi-exponential decay of dye fluorescence near the surface of plasmonic metamaterials and core-shell nanoparticles is shown to be an intrinsic property of the coupled system. Indeed, the Dicke, cooperative states involve two groups of transitions: super-radiant, from the most excited to the ground states and sub-radiant, which cannot reach the ground state. The relaxation in the sub-radiant system occurs mainly due to the interaction with the plasmon modes. Our theory shows that the relaxation leads to the population of the sub-radiant states by dephasing the super-radiant Dicke states giving rise to the bi-exponential decay in agreement with the experiments. We use a set of metamaterial samples consisting of gratings of paired silver nanostrips coated with Rh800 dye molecules, having resonances in the same spectral range. The bi-exponential decay is demonstrated for Au\SiO2\ATTO655 core-shell nanoparticles as well, which persists even when averaging over a broad range of the coupling parameter.
You can view the article here.
New Publications: Two Publications by CASCaM Professor
Dr. Andrés Cisneros (Chemistry), and others, recently published three papers:
Insights into conformational changes in AlkD bound to DNA with a yatakemycin adduct from computational simulations, Theoretical Chemistry Accounts. The article can be found here.

Abstract: Structural integrity of DNA molecules is necessary for their information storage function. Cells rely on a number of pathways to ensure that the damage to DNA induced by endogenous and exogenous reagents is repaired. AlkD, a base excision enzyme, removes a damaged nucleobase by cleaving a glycosidic bond. Unlike many other base excision enzymes, AlkD does not flip a damaged nucleobase into a designated reaction pocket, and as such can repair nucleobases with larger adducts, such as yatakemycin. In this study, the structure and dynamics of AlkD have been investigated by classical molecular dynamics simulations. Several systems including apo-AlkD, and AlkD in complex with DNA, both with and without the yatakemycin adduct have been simulated. Comparison of the results for the apo-AlkD with AlkD with substrate (damaged or undamaged) indicates a high degree of motion of helix αB in apo-AlkD, whereas this helix is observed to form various contacts when the substrate is bound. The calculated results are consistent with previous experimental studies that have suggested various residues involved in damage recognition, DNA binding, and base excision catalysis.

QM/MM Simulations with the Gaussian Electrostatic Model: A Density-based Polarizable Potential, Journal of Physical Chemistry Letters. The article can be found here.

Abstract: The use of advanced polarizable potentials in quantum mechanical/molecular mechanical (QM/MM) simulations has been shown to improve the overall accuracy of the calculation. We have developed a density-based potential called the Gaussian electrostatic model (GEM), which has been shown to provide very accurate environments for QM wave functions in QM/MM. In this contribution we present a new implementation of QM/GEM that extends our implementation to include all components (Coulomb, exchange—repulsion, polarization, and dispersion) for the total intermolecular interaction energy in QM/MM calculations, except for the charge-transfer term. The accuracy of the method is tested using a subset of water dimers from the water dimer potential energy surface reported by Babin et al. (J. Chem. Theory Comput. 2013 9, 5395-5403). Additionally, results of the new implementation are contrasted with results obtained with the classical AMOEBA potential. Our results indicate that GEM provides an accurate MM environment with average root-mean-square error <0.15 kcal/mol for every intermolecular interaction energy component compared with SAPT2+3/aug-cc-pVTZ reference calculations.
New Publication: Materials as Musical Muses
Dr. Marco Buongiorno Nardelli (Physics) recently published "Materials as Musical Muses" in the APS journal Physics.
Abstract: A physicist uses music to explore large datasets of material properties and, in turn, uses materials data to inspire creative musical compositions.
You can view the article here.
Chemistry NSF-REU participant received a DOE Computational Science Graduate Fellowship
Olivia Hull, 2016 NSF-REU participant working with Dr. Thomas Cundari, has received a 4-year Department of Energy Computational Science Graduate Fellowship, beginning September 2018. According to the website, the DOE CSGF "provides outstanding benefits and opportunities to students pursuing doctoral degrees in fields that use high-performance computing to solve complex science and engineering problems. The program fosters a community of energetic and committed Ph.D. students, alumni, DOE laboratory staff and other scientists who want to have an impact on the nation while advancing their research."
You can learn more about the DOE Computational Science Graduate Fellowship here.