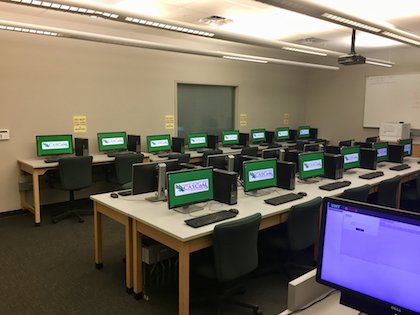 The Computational Chemistry Instructional Laboratory (CCIL) is a teaching lab that integrates technology with the different teaching styles of the CASCaM faculty. At present, CCIL provides 28 work stations equipped with Windows PCs for student use and an instructor's desk equipped with a Windows PC and a projector for displaying the instructor's monitor to the class. Two printers (one color, one black and white) are available for printing chemistry related materials.

A variety of standard software packages are available (e.g. Microsoft Office, Adobe Creative Cloud, Firefox, Google Chrome, etc...). In addition, there are numerous chemistry-related software packages available (e.g. Gaussian16W, GaussView, ChemDraw, Chem3d, Mathematica, MatLab, Maple, etc...).

The lab is open to all undergraduate and graduate students enrolled in chemistry courses, and a teaching assistant is available to assist users during scheduled hours.